Journal of Young Pharmacists - Vol 8, Issue 2, Apr-Jun, 2016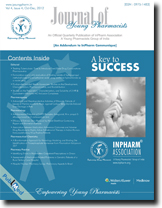 Journal of Young Pharmacists - An official journal of InPharm Association is now fully funded and maintained by Phcog.Net. Journal of Young Pharmacists is an official Quarterly Journal funded by Phcog.Net. J Young Pharm is a peer-reviewed open-access Quarterly journal featuring research articles of exceptional significance in all areas of Pharmaceutical sciences. J Young Pharm provides comprehensive coverage of issues affecting Pharmaceutical education and Career.
Editor-in-Chief : Dr. S Parasuraman, Ph.D
ISSN : [ISSN: Print -0975-1483, Online - 0975-1505]
Frequency : Quarterly (4 issues/year)
Abstracting and Indexing information - The journal is indexed with Caspur, Chemical Abstracts, CNKI (China National Knowledge Infrastructure), DOAJ, EBSCO Publishing's Electronic Databases, Expanded Academic ASAP, Genamics JournalSeek, Global Health, Google Scholar, Health & Wellness Research Center, Health Reference Center Academic, Hinari, Index Copernicus, Indian Science Abstracts, OpenJGate, PrimoCentral, ProQuest, Scimago Journal Ranking, SCOLOAR, SCOPUS, SIIC databases, Summon by Serial Solutions and Ulrich's International Periodical Directory

We are delighted to announce that the Journal of Young Pharmacists (JYP) has been selected for coverage in this new Thomson Reuters Index.
The Journal of Young Pharmacists is pleasedto announce that it has been accepted for indexing in the Emerging Sources Citation Index (ESCI), a new edition of Web of Science™. Content in this index is under consideration by Thomson Reuters to be accepted in the Science Citation Index Expanded™, the Social Sciences Citation Index®, and the Arts & Humanities Citation Index®. The quality and depth of content Web of Science offers to researchers, authors, publishers, and institutions sets it apart from other research databases.
Manuscripts can be submitted via Online through JOW
Contents inside